Creative Body, Heart, and Mind with the Enneagram
Monday, September 25, 7-9 pm
Location: The Creativity Caravan, 28 South Fullerton Avenue, Montclair, NJ
How can you tap into more of what life wants to offer you and become a powerful vessel for the flow of creativity?
At the heart of the Enneagram is opening up flow in your entire being. Its teachings are an invitation to more deeply recognize your gifts, and to learn about the unconscious habits that are getting in the way of your full expression.
This workshop will introduce you to three simple, yet powerful practices that will expand your access to intelligence of your body, heart, and mind. We'll start with a short creative project and use that as a jumping-off point to explore how you can:
More confidently connect to the physical aliveness that drives action
Dive into compassionate sincerity about what your heart truly yearns for
Be infinitely curious about yourself and the world around you
Whether you're interested in sparking your writing, art, dance, or other creative pursuits, or would like any part of your life to feel more energized, aligned, and meaningful, this workshop is for you.
Price: $25
To register, head on over to The Creativity Caravan.

---
What Participants Say:
"I enjoyed the workshop thoroughly. The use of images to depict the Essence of the types was beautiful and striking."
– Patrick Fouche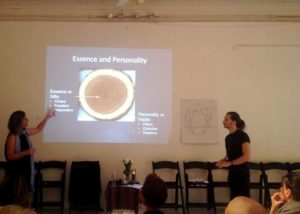 "The visceral and experiential connection yielded something much different than mere explanation…[this was] a look beyond surface conceptions of self into a construct to access greater wholeness."
– Nick Podgurski
"A beautiful exploration and experience into archetypes and humanity. Deep dive into infinite possibilities."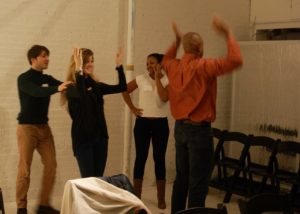 "A safe space to learn and experiment with self-understanding and bodily/spiritual/ mental integration…it felt so nurturing and nonjudgmental."
"Each of the exercises felt very intentional and they allowed me to feel the nine Essences rather than just thinking through them."
Being Your Whole Self:
An Essence and Instincts Enneagram Weekend Workshop
Saturday, October 7, 9:30 am – 5 pm and Sunday, October 8, 9 am – 5 pm
Location: Make Studio, 3326 Keswick Road, Baltimore, MD
What if the freedom you're seeking is already here, in this moment?  How can learning to be more present with everything in your human experience open up new possibilities for engaging with the gift of life?
The teachings of the Enneagram provide powerful guidance for how we can experience this essential abundance and the wisdom of our instinctual drives in all circumstances. The Enneagram also describes specific ways that our habitual patterns of attention distract us from living contact with what is truly here. In this experiential workshop, Julie and John will guide you through a series of powerful images, inquiries, and practices to explore the dynamic between more fixed patterns of Personality and the freer movement of Essence that is provided by subtle yet powerful shifts of attention.
During our time together, you will:
Learn simple practices to be with the intelligence of the present moment
Learn how to be in greater contact with your instinctual needs, developing the self-regulation and resilience that makes your body a vessel for intelligent action
Learn how to shift from reactive patterns that close down possibilities in your life, to direct contact with essential qualities that support the flowering of your potential
Broaden your understanding of the myriad ways in which Essence and Instinctual Wisdom unfolds through you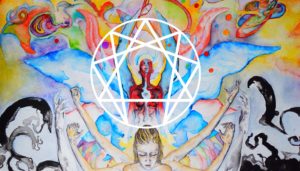 This workshop is open to all sincere students, regardless of your level of experience with the Enneagram. It is an experiential introduction to the wisdom of this ancient system and an opportunity to deepen your understanding of your Essential and Instinctual nature.
Price:  Early bird (before September 7): $150. After September 7, $190.
About the Facilitators:
John Luckovich has been a heart-centered investigator of the Enneagram and a devotee of inner work for over a decade. He is deeply involved in the Gurdjieff Work, an apprentice Integrative Breathwork practitioner, and a painter who finds inspiration in his spiritual studies.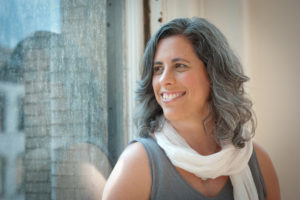 Julie Harris is the founder of Riverbend Coaching, where she blends diverse streams of wisdom into innovative and actionable development plans for her clients. She is certified as an integral coach, a Riso-Hudson Enneagram teacher, and a yoga teacher.
---
Webinars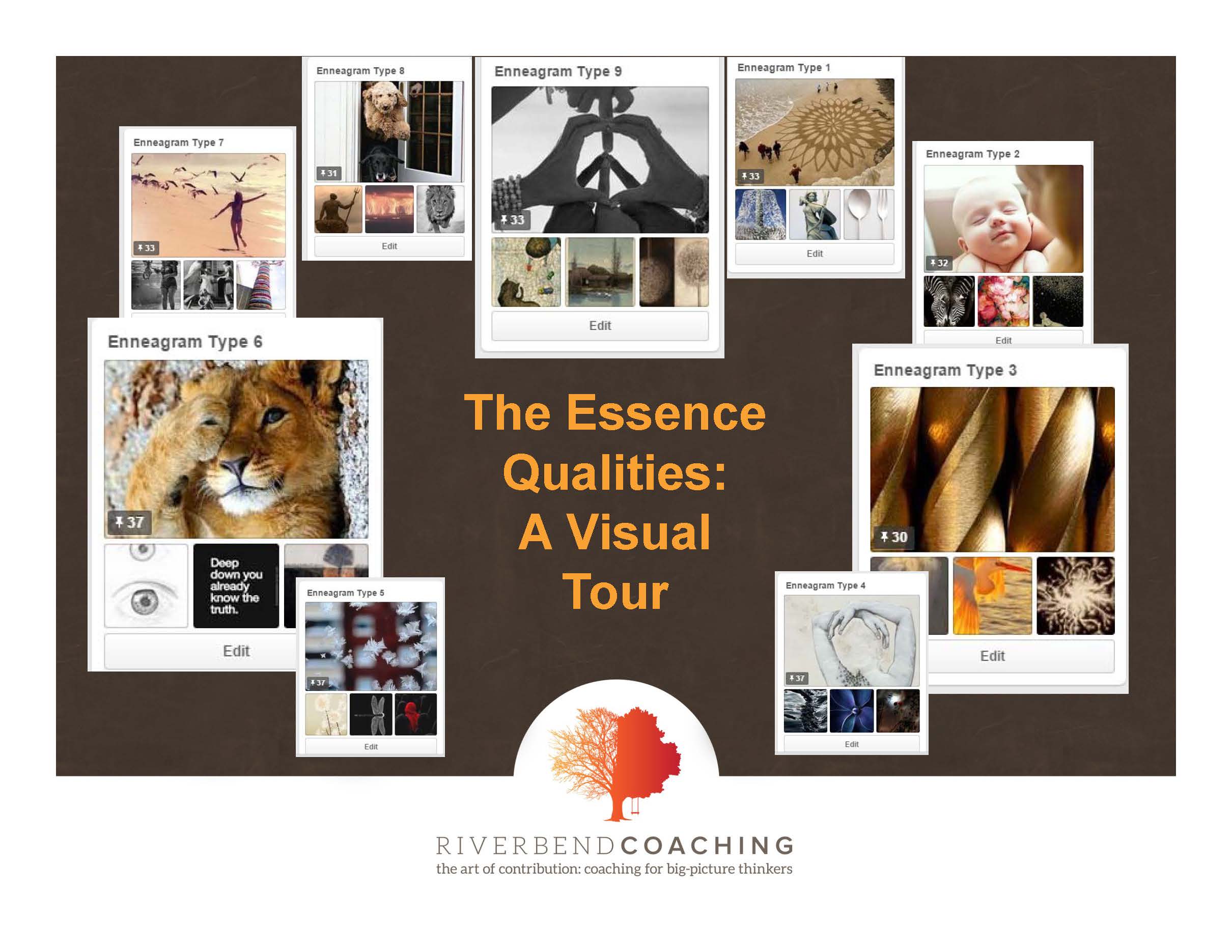 The visual aspect of this teaching helped to expand and anchor my sensitivity to each type more fully. You did an outstanding job in every aspect of your presentation.
The Essence Qualities: A Visual Tour + A Deeper Journey Into Essence
Who are you at your core and how can you begin to more deeply experience the qualities of your Essential self?
Begin your journey with the Enneagram or get a new perspective by taking a guided visual tour through a series of images that will help you to develop an instinctive understanding of what the Essence qualities look like, feel like, and evoke in you. Then, move more deeply into the innate intelligence of every human being by exploring the Three Centers (Instinctive, Feeling, and Thinking) and the Nine Types.
Each of these four previously-recorded webinars runs 45 – 55 minutes. Buy them separately for $20 each, or the whole set for $60!
---
More Workshop Options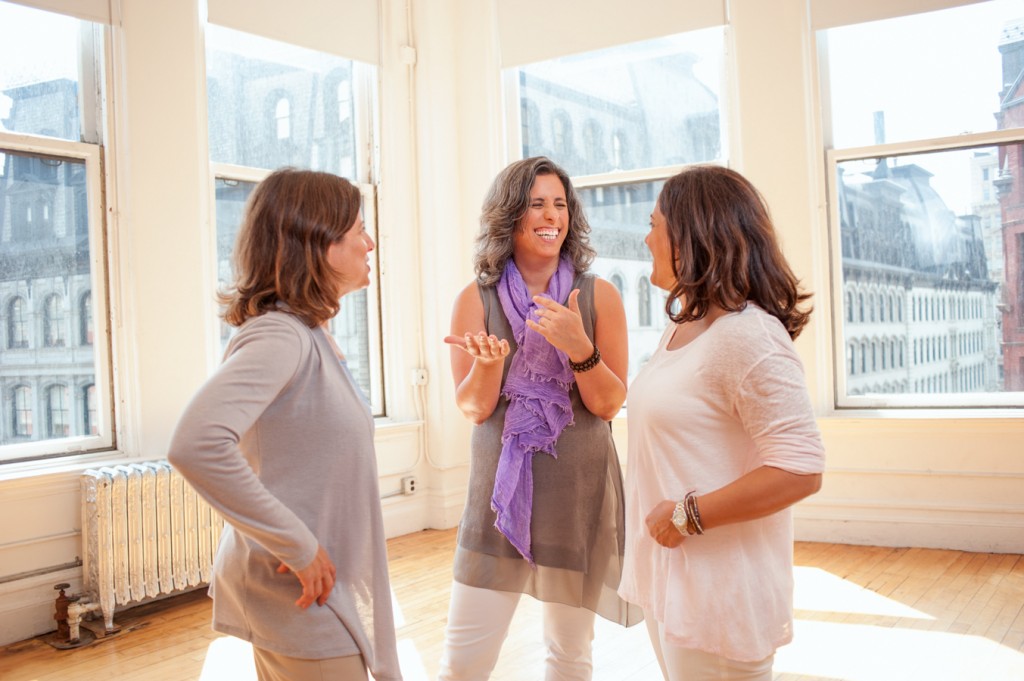 Exploring new concepts in a group gives big-picture thinkers an energizing way to access, share, and amplify the power of their ideas.
Learning in a group allows big picture thinkers a real-time opportunity to practice the skill of connecting to others from a place that is grounded and centered in what they truly believe.  Workshops are designed to be practical, engaging, and to provide participants with fresh perspectives that will broaden thinking and strengthen the ability to move from concept to contribution.
---
Below are some examples of workshops that I've conducted for groups such as women entrepreneurs and pharmaceutical professionals. See if you find a topic that intrigues you, or contact me to discuss a custom workshop or speaking engagement for your group of big-picture thinkers.
---
Sample Workshop Descriptions
The Power of Emotional Intelligence: Authentic Connection
Participants leave this workshop with a deep sense of connection they can access in all of their relationships, personal or professional.
The most valuable part of the workshop was helping people to understand that both business expertise and emotional intelligence are needed to build the long-term client relationships that will make you successful."
– Aimee Schenkel
We often associate the word "intelligence" with the cognitive powers of the mind. Over the last 20 years, there has been a rapidly growing understanding of how another kind of intelligence – emotional intelligence – strongly influences our experiences of ourselves and our relationships with others.
People with high levels of emotional intelligence know how to move gracefully through their own emotional states during the ups and downs of each day, and can build strong relationships with others that are mutually beneficial and deeply satisfying.
In this workshop, you will:
Learn how the emotional intelligence that is built into your body makes decisions that connect  and protect you.
Begin to recognize and work with old patterns of emotional intelligence that no longer serve you.
Practice authentically connecting to yourself and others.
---
Declaring Your Vision
This workshop creates a great deal of energy and clarity for participants in a short period of time.

Having a clearly articulated vision for your business is essential to being able to choose effective action.
In this workshop, you will:
Learn simple techniques for getting aligned within yourself and exploring what's possible for you.
Practice declaring a vision based on what you've discovered.
---
Stop Saying "Yes" When You Really Mean "No"
This workshop gives participants practical concepts and tools to say "yes" to what truly matters to them, and "no" to requests that do not fit with their intentions.

When you're a person with many ideas and interests, you may feel overwhelmed with demands on your time.
In this workshop, we will:
Examine how the pressure to "say yes" shows up in your life.
Help you learn to determine what is within your control when those situations arise.
Practice effective communication techniques and body sensing exercises to assist you in responding to the many requests you encounter every day.
---
Tapping Into Your Inner Entrepreneur
This workshop helps participants to consider key distinctions between working for a large organization and working for yourself, and exposes them to skills that are increasingly in demand in the rapidly changing business world.

Many big-picture thinkers with big company experience find themselves contemplating entrepreneurship at some point in their career.
In this workshop, we explore three skills that are used by successful serial entrepreneurs:
Adapting in the face of uncertainty.
Generating new possibilities.
Acting confidently during opportunities and challenges.
---
Connecting to the Three Centers of Intelligence with the Enneagram
This 3-hour workshop combines discussion, guided meditation, and experiential exercises to explore practical ways to access the core intelligences of your essential self.

The
Enneagram
is a personality type system that provides an amazingly accurate narrative and developmental path for nine different types of the essential self, showing you what is possible when you move in the direction of your core nature, and how to recognize habitual beliefs, feelings, and actions that are standing in the way of your contribution.
One of the fundamental beliefs of the Enneagram is that we have three centers of intelligence: the instinctive center, or gut, located in the belly; the feeling center, located in the heart; and the thinking center, located in the head. When we add the intelligence of our belly and heart center to the intelligence of our minds, our concepts can become contributions.