Alive in Your Medicine Retreat, August 31-September 4, 2023
Welcome to the retreat! I am so glad that you are joining this journey. This page contains the basic information that you'll need for our time together.
Action Required: Please scroll down to download and sign the full Waiver and Release form for the program.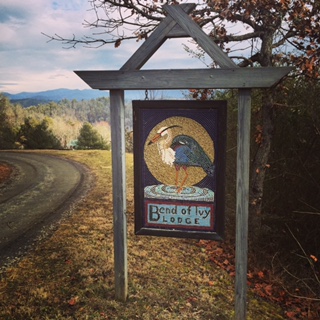 Retreat Location
Bend of Ivy Lodge and Retreat Center
3717 Bend of Ivy Road, Marshall, North Carolina
Driving directions are here.
If you are traveling by plane, the closest airports are:
Asheville Regional Airport – 45 minutes drive
Charlotte International Airport — a little over 2 hours drive
Atlanta International Airport — a little under 4 hours drive
Arrival and Departure
Check-in on Thursday, August 31
You can check in to your room starting at 5 pm.
The retreat begins with dinner at 6 pm.
Check-out on Monday, September 4
Please plan your departure so that you are able to stay through 12 pm on Monday as we will spend the morning integrating your experience.
The retreat ends with a box lunch at 12 pm — you can stay and eat or take it on the road with you.
Room check-out is no later than 1 pm.
What's Provided
Bed linens and towels
Soap/shampoo/conditioner
Hair dryers
A laundry room
Slippers (no outside shoes can be worn in the Lodge; feel free to bring your own slippers if you prefer)
Yoga mats (or feel free to bring your own)
Wifi (although I recommend that you plan to disconnect from technology as much as possible!)
Umbrellas and rain ponchos
What to Bring
September in Western North Carolina is moderate, with temperatures ranging from a high of 80 F to a low of 55-60 F. We will be outside as much as possible: sometimes sitting on chairs, sometimes sitting or lying on the grass (yoga mats available or bring your own).
We will do some light hiking and go in the river; some days we will be meeting in the evening or the early morning. I recommend layers and shoes/clothing that can support you across these different environments and times. We will also be engaging with some creative projects (that are not supermessy, but you probably won't want your fanciest clothing).
Please bring:
Comfortable walking shoes, hiking shoes, or sneakers
Long pants/sleeves to provide protection against insects and poison ivy, and warmth in the the early morning or evening
Bathing suit and/or clothing that can get wet
Hat
Sunscreen
Reusable water bottle
Small flashlight or headlamp
Notebook and pen
A hairbrush or comb
A scarf that you find beautiful (and is not superexpensive or delicate i.e. it would not be ruined if it got a little wet. I will also have some extra scarves)
Any images that are particularly speaking to you right now (I will have lots of magazines and photos as well)
Optional:
Water shoes, if you have or want them for wading in the river
Rain jacket, if you prefer to have your own
Pillow/blanket for breathwork
Your own yoga mat or backjack
Drum, shaker, or other percussion instrument (I will have a few available)
Bug spray (Bend of Ivy also has bug spray)
Indoor slippers, if you prefer to have your own
This communication from Bend of Ivy gives more detail about what to expect on the property, including taking care around the goats!
If you are camping, please bring a tent; towels and bathroom access are provided.
Waiver and Release Form
Please download this PDF form by clicking the downward facing arrow at the right hand side at the top of the document or by clicking "Download" at the bottom of the document. Please sign (either electronically or manually) and return to me via email: julie@riverbendcoaching.com.