Alive in Your Medicine Retreat, August 31-September 4, 2023
Welcome to the retreat! I am so glad that you are joining this journey. This page contains the basic information that you'll need for our time together.
Action Required: Please scroll down to download and sign the full Waiver and Release form for the program.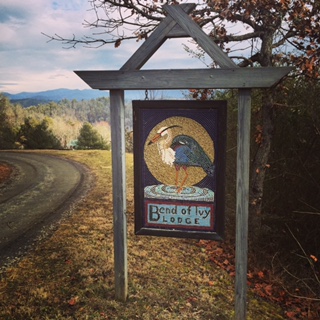 Retreat Location
Bend of Ivy Lodge and Retreat Center
3717 Bend of Ivy Road, Marshall, North Carolina
Driving directions are here.
If you are traveling by plane, the closest airports are:
Asheville Regional Airport – 45 minutes drive
Charlotte International Airport — a little over 2 hours drive
Atlanta International Airport — a little under 4 hours drive
Arrival and Departure
Check-in on Thursday, August 31
You can check in to your room starting at 5 pm.
The retreat begins with dinner at 6 pm.
Check-out on Monday, September 4
The retreat ends with lunch served from 12-1 pm.
Room check-out is no later than 1 pm.
Please plan your departure so that you are able to stay through 12 pm on Monday as we will spend the morning integrating your experience.
What to Bring
September in Western North Carolina is moderate, with temperatures ranging from a high of 80 F to a low of 55-60 F. We will be outside as much as possible. We may do some light hiking and go in the river. Please bring layers so that you can be comfortable. Here are some suggestions:
Long pants/sleeves can provide protection against insects and warmth in the the early morning or evening
A bathing suit and/or clothing that can get wet
Comfortable walking shoes/sneakers
A hat
A reusable water bottle
A flashlight
Sunscreen
Other items:
Notebook and pen
Any art supplies that you like to travel with (I will have some items available as well)
Bed linens, towels, and soap/shampoo/conditioner are provided. If you are camping, please bring a tent; towels and bathroom access are provided.
Waiver and Release Form
Please download this PDF form by clicking the downward facing arrow at the right hand side at the top of the document or by clicking "Download" at the bottom of the document. Please sign (either electronically or manually) and return to me via email: julie@riverbendcoaching.com.