My journey has been about feeding my left and right brain, discovering how they integrate into one body, and how both of them communicate with my heart to tell me what really matters.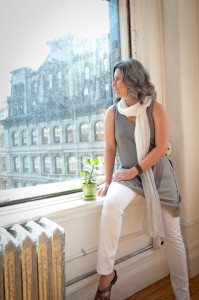 In college, I chose to be an English major because I loved how authors like Chaucer and Shakespeare observed human beings in ways that still ring true hundreds of years later. After graduation, I followed my interest in women's issues by researching leadership and flexible work arrangements, and then went back to school to study business. That led to a job at Pfizer, where I spent the next 11 years.
When I started at Pfizer in 1993, it was a smaller pharmaceutical company filled with smart, quirky, entrepreneurial people. I got to be both analytical and creative, and learned how to run a business. One of my key marketing accomplishments there was leading the design and execution of global strategy for a $4 billion cardiovascular product. I also developed the first training program at Pfizer for new marketers, and spearheaded the establishment of a peer coaching network for first-line managers. It was a great experience, but things were changing.
The pharmaceutical industry was consolidating, and more importantly, two new people had come into my life: my daughters. Although I experimented with both telecommuting and part-time work to try to combine my corporate career and my career as a mother, I ended up deciding that a whole new approach was needed.
In 2004, I left Pfizer and started Riverbend Coaching.
Working for myself allowed me the freedom to spend time with my daughters.  I helped them to grow and learn, and they helped me to do the same! This continues to be the great joy of my life, and I'm not sure what I could do that would give me a greater sense of meaning.
I also had the opportunity to begin to explore different parts of myself more fully than I had in years. I completed a year-long coaching certification program and then became certified as a hatha yoga teacher, incorporating the wisdom of the body into my coaching practice. I started formally studying the Enneagram, a psycho-spiritual development system that I adore for its richness, depth, and holistic approach toward life. I studied watercolor painting, printmaking, and modern dance.
In the last six years, I have continued to deepen my learning and practice, I became certified as a Riso-Husdon Enneagram teacher and as an Integrative Breathwork facilitator. I continue to study yoga philosophy in the Rajanka tradition. My creative, spiritual, and nature practices are intermingling and producing expressions that feed my soul. Both of my daughters are adults and out on their own in the world!  
What I know is that it's never too late to blaze your own path, and that whatever journey you're on right now, you still have many journeys ahead of you.
Meet you there?